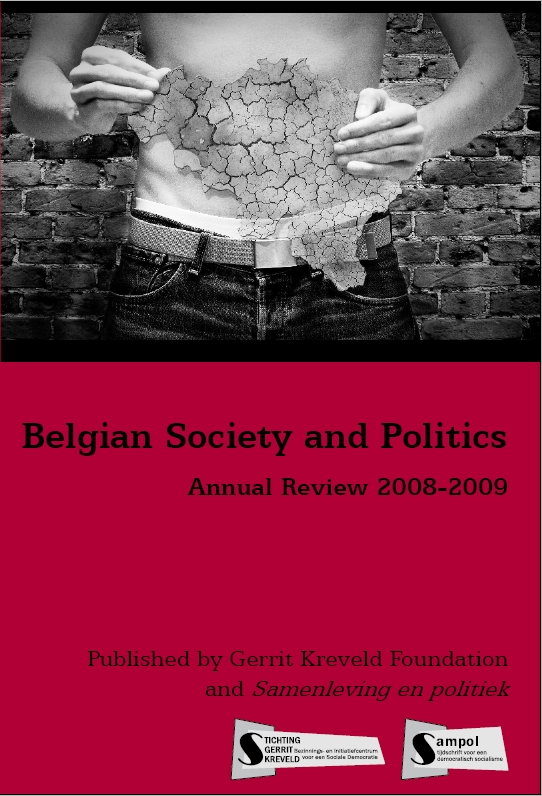 Een uitgave van Stichting Gerrit Kreveld en
Samenleving en poltiek
Wim Vermeersch (ed)

ISSN: 1784-9829
152 pagina's
Op 5 november 2008 werd ons tweede Engelstalige jaarboek Belgian Society and Politics 2008-2009 voorgesteld.
In deze publicatie pogen we u beter voor te lichten over de stand van zaken van België dat sinds de verkiezingen van 10 juni 2007 in een (voor sommigen terminale) crisis verkeert. Er circuleren vele vooroordelen over omvang, inhoud en schuldvragen met betrekking tot deze crisis. Wij hopen met dit jaarboek de vooroordelen te helpen ombuigen naar oordelen, die de elementen van de Belgische crisis beter situeren in de politieke algebra van de Europese crisis, die alle sociaaldemocraten aanbelangt.
In het eerste hoofdstuk geven we het woord aan een aantal auteurs om wat duidelijkheid te scheppen in de bizarre politieke wereld van België. Daarbij veel aandacht voor onze hoofdstad Brussel. Het tweede deel sluit dichter aan bij de ambities die de Stichting zichzelf stelt als Bezinnings- en Initiatiefcentrum voor een sociale democratie. We analyseren de verkiezingsnederlaag van de socialisten op 10 juni 2007 en kijken eveneens vooruit naar de Europese verkiezingen van 2009. Hoe kan het beter?
INHOUD
Herman BALTHAZAR - The Search for Fresh Impetus: Social Democracy in Europe
Wim VERMEERSCH - Editor's Choice: Featured Articles
The Bizarre Political World of Belgium
Bye Bye Belgium?

Dave SINARDET - A Touch of Crisis. The Long and Winding Road to the Sixth Belgian State Reform

Dirk JACOBS - Why Belgium Still Has a Future. No Need to Send UN Troops

Etienne VERMEERSCH - Why Belgium Has no Future. A Belgian or a Flemish Nation, or Both?


The Brussels Web

Pascal SMET - A Project for the City of Brussels

Caroline VAN WYNSBERGHE - The Brussels Metropolis: Lessons from Lille and Berlin?

Roel DE GROOF - Brussels, Capital of Europe: the Political World City

Philippe VAN PARIJS - Brussels, Capital of Europe: the Linguistic Challenge

Rudi JANSSENS - Language Use in Brussels and the Position of Dutch
Social Democrats at a Turning Point?
Electoral Defeat in June 2007

Carl DEVOS - June 10th 2007: Wake-up Call for the Sp.a

Pascal DELWIT - June 10th 2007: After the Halcyon Years... Stormy Days for the PS

Stephen BOUQUIN - What Next for the Sp.a? Turning the Tide

Björn SIFFER - What Next for the Sp.a? Ending the Reign of Fear

Patrick LOOBUYCK - Do we Still Need Socialism?


Fighting Back at European Elections in 2009?

Saïd EL KHADRAOUI - The PES Manifesto: European Socialists Prepare for the Elections

Anne VAN LANCKER - Taking Stock: 5 Years of European Parliamentary Socialism

Mia DE VITS & Jos BERTRAND - How Can the European Union Contribute to a More Social Society?

Hendrik VOS, Petra DEBUSSCHER, Jan ORBIE & Olivia RUTAZIBWA - Towards a Social-democratic Europe