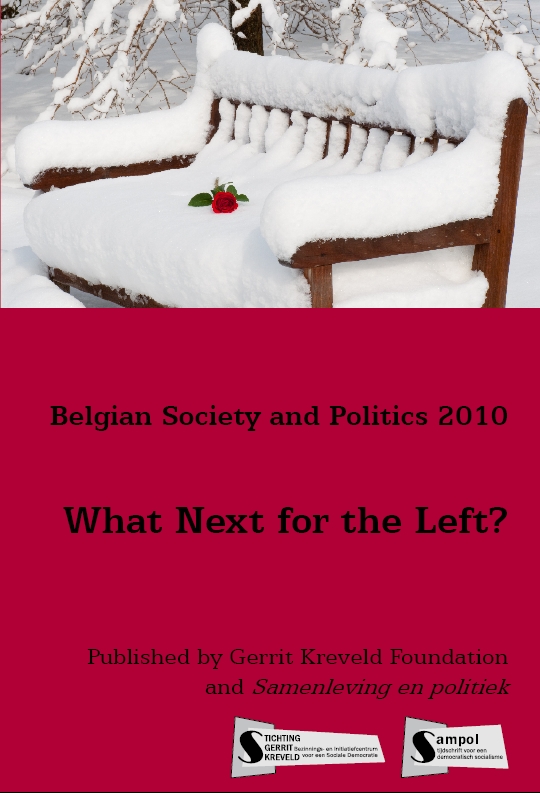 Een uitgave van Stichting Gerrit Kreveld en
Samenleving en politiek
Wim Vermeersch (ed.)

ISSN: 1784-9829
208 pagina's
Op 13 juni 2010 haalden de Vlaamse socialisten bij de federale verkiezingen een schamele 14,6%. Daarmee belandt de partij, na een derde verkiezingsnederlaag op rij, op een dramatisch dieptepunt. De Vlaamse socialisten genieten nu de trieste eer de minst succesvolle socialistische partij van West-Europa te zijn. Toegegeven, de sp.a is niet de enige slechte leerling in de klas van Europese sociaaldemocraten. Toch kan men de redenen voor de algemene slump van links onmogelijk veralgemenen. Daarom achtte de Stichting Gerrit Kreveld het interessant om in dit jaarboek Belgian Society and Politics 2010 – What Next for the Left? de Vlaamse casus te documenteren, in de hoop een waardevolle bijdrage te leveren aan het (internationale) debat over de herbronning van links
Deze publicatie heeft, met vier thematische onderdelen, nog steeds dezelfde vier objectieven waarmee we in 2007 gestart zijn met de uitgave van een Engelstalig jaarboek: één, het grensoverschrijdend debat aanwakkeren over de meervoudige crisis van de sociaaldemocratie in alle Europese landen; twee, nieuwe thema's aanboren waarvoor de sociaaldemocratie zowel ideologisch als electoraal heldere en lonende antwoorden moet vinden; drie, debat en thema's uit de wolken halen door grondige informatie over de stand van zaken van Belgian Society and Politics; en ten slotte vier: inspiratie, impulsen en informatie verzamelen vanuit de positie van Vlaamse sociaaldemocraten in de zieke (stervende?) natiestaat België.
INHOUD
Herman BALTHAZAR - What Next for the left?
Wim VERMEERSCH - Editor's Choice: Featured Articles
1. A NEW AGENDA FOR SOCIAL DEMOCRATS
Ferdi DE VILLE - Social Democratic Renewal in Times of Crises: Overview, Critique and Alternative
Willem DE KLERCK - Europe 2020: Weighed and Found Wanting
Glenn RAYP and Rudi VANDER VENNET - A Renewed Economic Growth Strategy for Belgium and the EU
Anke VAN LANCKER - How Europe Became our Homeland
2.SOCIAL DEMOCRACY IN FLANDERS: NO ROSES WITHOUR THORNS
Carl DEVOS - Two Decades of Sp.a. Much Ideological Renewal, Poor Results
Walter PAULI - Two Decades of Sp.a. No Roses without Thorns
3. SP.A: THE PARTY (MEMBERS) AND ITS ELECTORATE
Patrick VANDER WEYDEN and Koen ABTS - The Structural and Attitudinal Profile of the Sp.a Rank and File
Virginie BUYSE - Scouting for and Developing New Political Talent
Fons VAN DYCK and Miranda MAES - THE VIEWS OF A MARKET RESEARCHER - Changing to Remain Oneself
Jan CALLEBAUT - THE VIEWS OF A MARKET RESEARCHER - Where Are the Socially Committed Voters?
Jan DE ZUTTER - Feeling for the Light Switch.The Left's Difficult Search for its Audience
Interview with Mark ELCHARDUS and Kees SCHUYT - 'For Us, the Liberal and Social Democrat Coalition Ended in a Coma'
4. WHAT NEXT FOR THE SP.A?
Marc BONTEMPS - Make Utopia your Spearhead
Manu CLAEYS - Rediscovering Socialism: Close to the Laws, Close to the People
Tom COCHEZ - Opting for an Urban Strategy
Caroline COPERS - Be Openly Socialist
Joël DE CEULAER - Pappenheimer Socialism
Ann DEMEULEMEESTER - Reconnecting with Civil Society
Sonja EGGERICKX - The Party's Unbearable Vagueness
Jos GEYSELS - When Colours Start to Fade
Marc HOOGHE - The Legitimacy of Redistribution
Chris RENIERS - The Basic Ingredients of Modern Socialism
Marc SWYNGEDOUW - Future Social Democratic Challenges
Jean Paul VAN BENDEGEM - Lower and Upper Limits and the Language of Politics
Dorian VAN DER BREMPT - Vitamines for Long-lasting Socialism
Liesbeth VAN IMPE - Politics is More than Policy